On the 28th October 2020 we hosted a very interesting webinar with Stealthy Wealth, on using ETFs in a TFSA.
During the webinar, Stealthy Wealth looks at some of the rules around using ETFs inside of a TFSA, as well as some tips to get the most out of your TFSA.
For a recording of the webinar please click on the Stealthy Wealth image below.

To view Stealthy Wealth's presentation please click on the image below: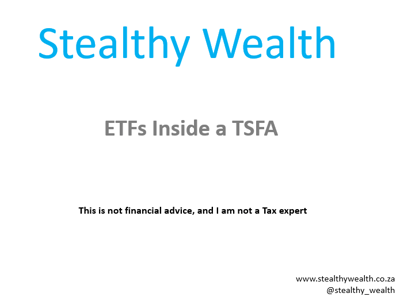 If you want to find out more about ETFs check them out HERE on our EasyETFs site.
We have recently had some other interesting webinars with Stealthy Wealth, to view them make sure to check out our webinars page on our EasyETFs site HERE.
Compare ETFs on EasyETFs