Zero brokerage costs
Great news for all current and future investors in PBT Group Limiteds' shares - from 1 July 2022 until 30 June 2023 there will be zero brokerage costs! What exactly does this mean?
Investors who want to buy PBT shares will have the opportunity to buy shares at no cost, since the company will cover the brokerage costs on the purchase. After the purchase, investors will be refunded their brokerage costs on the Tuesday of the following week by 17: 00.
Explaining the reasons behind subsidising this cost, PBT Group CEO Elizna Read says: "We aim to make investing in PBT Group more affordable for our retail investors, further enabling them to own a part of our business." With our no minimum game on lock 🔐 you don't have to buy a minimum amount of shares to qualify - you choose how much you want to invest.
"This is really exciting news for our over 1,5 million registered users. PBT has taken the lead and I have no doubt that other companies will follow. Making investing accessible to all is a major part of our Easy DNA and we commend PBT and other listed entities who are a part of this movement," EasyEquities Chief Marketing Officer, Carel Nolte added.
Login to EasyWallets to view shares
on EasyEquities
But who is PBT? 🤔
As an Information Technology company, PBT is a cloud and data analytics solutions and services provider, with both local and international clients.
Sharing profits with investors, the group declared a dividend of 32 cents per share, with the last trading date being 19 July 2022. This comes after the group saw strong organic revenue growth from its services division. Ready to compound your returns?
You check out their recent financials here or below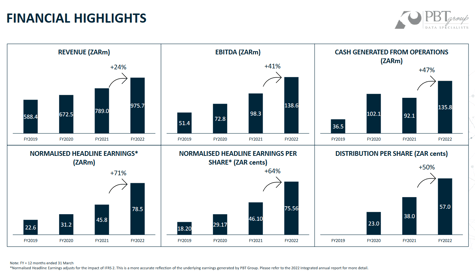 Login to EasyWallets to view shares
on EasyEquities
Example of a purchase