On the 5th November 2020 we hosted a webinar with Phibion Makuwerere, a senior financial analyst at Intellidex on MTBPS (Medium Term Budget Policy Statement) and your money?
This webinar looks at the implications of the announced fiscal tools on asset allocation. Simultaneously, looking at the state of government finances and what it means for your portfolio.
For a recording of the webinar please click on the image below:
To view Phibion's presentation please click on the image below: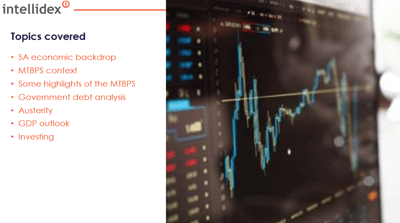 If you want to to sign up for upcomming Intellidex webinars as well as listen to previous ones, make sure to check out our EasyETFs webinar page HERE.