EasyEquities is giving away a fast experience! Typically the opposite is expected of investments, which require a full tank of patience and low cost service. This time around, we're going full torque and taking a Hot Lap around Zwartkops courtesy of our friends at Pablo Clark and Hot91.9. While Ferrari has RACE'd up the charts in the stock markets in the last few months, some of our lucky users and partners will be taking a fast lap around the track on June 22 to try compete with the climbing Ferrari share price.
Since we added Ferrari on our platform (October 2018), the stock has seen a return of 33.76% at the date of publishing. The luxury car-maker recently beat market expectations after releasing their earnings and revenue results for the previous quarter, as was predicted by Barry 'The Beef' Dumas.
If EasyEquities investors had bought the stock as soon as it made its debut on the platform for $100, they would have made $133 in the space of 7 months. So if you're thinking of buying a Ferrari when you make it, consider buying the stock as well.
Click logo to view Ferrari stock (RACE)
on EasyEquities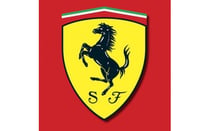 In the meantime however, us dreamers and financial freedom seekers can still get a taste of what's to be, once we hit the big-time. Taking a spin around the legendary Zwartkops racetrack in Centurion in a Ferrari (nope, not sure which Ferrari, but it probably goes fast), attendees get a once-in-a-lifetime experience. Remember, that's not the only once-in-a-lifetime experience we've given away all in the name of Ferrari.
What works for a lot of people when it comes to jetting toward their goals? Visualising them.
Even with financial objectives, the same principles (especially if you're like me and aim for them to feed your lifestyle and experiences).
Also, I'm pretty sure being inside a Ferrari is fun, second to being a Ferrari shareholder at least.