Our friend from Stealthy Wealth analyses the Satrix 40, the first ETF to list on the JSE back in 2000.

Even those unfamiliar with ETFs and investing would likely have heard the name Satrix 40. This is probably because it is the longest running ETF launching way back in November 2000 (that was around the time the Backstreet boys were showing you the shape of their heart).
It really is the grand-daddy of ETFs.
The ETF invests in 40 of the largest companies on the JSE and includes shares like Naspers, Woolworths, Standard Bank and MTN.
After the Satrix 40 launched, it closed its first day of trading at a price of R7.74 on 27 November 2000. It went on to have great run, quadrupling its value in less than eight years, to close at R31.25 on 22 May 2008. The financial crisis of 2008 caused a serious wobble and the price halved to R16.66 by October 2008.
That drop was pretty nasty, but those that stuck it out and had a long term view (as investors should) were well rewarded. It recovered to make a new high less than 4 years later, closing at R31.26 on 7 August 2012.
A little over a year later it passed R40, and it took just another 4 years to close above R50 for the first time on 24 August 2017 and quickly went on to reach its highest closing price of R55.43 on 21 November 2017.
It's been pretty tough going since then including a COVID-19 dip and recovery, and the Satrix 40 ended August 2020 at R51.45.
The Satrix 40 closing price from launch until the end of August 2020 is shown below.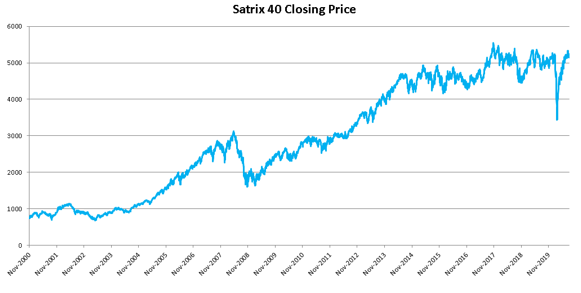 A R100 invested in the Satrix 40 when it launched in November 2000, would be worth around R665 today. That's a pretty incredible 565% return!
But perhaps what is even more incredible, is that over that time you would have received a total of R190 in dividends. That's right – the R100 investment would have given you around twice as much back just in dividends. The first dividend was a mere 0.5 cents per ETF at the end of December 2000. That has grown to 44.42 cents per ETF at the latest quarterly distribution.
All in all this translates to an annualised performance of 13.24% per annum (as at end July 2020). Not bad going.
Sources – Standard Bank OST closing prices and dividend distributions. Satrix July 2020 MDD
To find out more information about the Satrix 40 click on the image below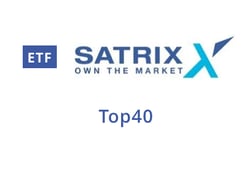 We have recently held some webinars with Stealthy Wealth check them out below:
Compare ETFs on EasyETFs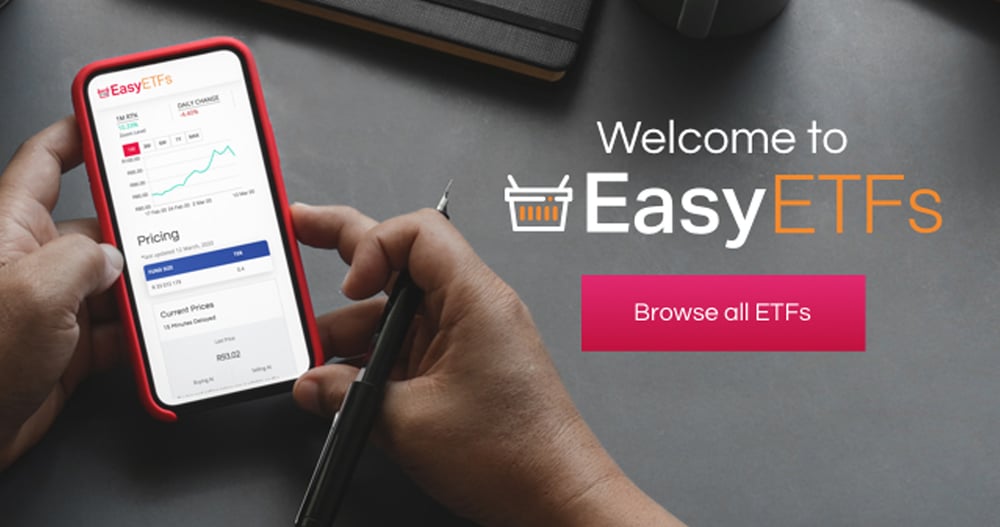 Background: Exchange-traded funds (ETFs)
Exchange-traded funds (ETFs) are passively managed investment funds that track the performance of a basket of pre-determined assets. They are traded the same way as shares and the main difference is that whereas one share gives exposure to one company, an ETF gives exposure to numerous companies in a single transaction. ETFs can be traded through your broker in the same way as shares, say, on the EasyEquities platform. In addition, they qualify for the tax-free savings account, where both capital and income gains accumulate tax free.
Benefits of ETFs
Gain instant exposure to various underlying shares or bonds in one transaction

They diversify risk because a single ETF holds various shares

They are cost-effective

They are liquid – it is usually easy to find a buyer or seller and they trade just like shares

High transparency through daily published index constituents